E-Learning Before And After Covid-19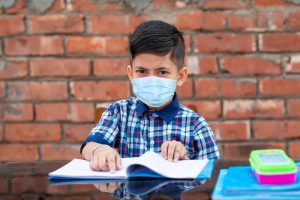 COVID-19 has put the Physical Education system to the test, and much work remains to be done to improve children's learning. However, the pandemic has also demonstrated how quickly the world can address the challenge of keeping children educated using technology. The Crisis led to the worldwide shutdown of schools. 
Over 1.2 billion children worldwide are out of school. Therefore education has dramatically changed As a result of the significant increase in e-learning and remote teaching on digital platforms. Over the course of a year, the shift to online education has been accelerated and proven to be effective once people are equipped with the system.
According to research, online learning improves information retention and takes less time, implying that the changes caused by coronavirus may persist.
Prior to COVID-19, online education was already gaining traction and acceptance. Since COVID-19, there has been a significant increase in use, whether in language applications and virtual tutoring, video conference tools, or online learning software. In this unprecedented and uncertain period, most people are encouraged to study and work from home
Even Though the crisis has highly accelerated the transition to online learning and education formats, Some people struggle to react and adjust as a result of digital inequality, in which connections, devices or management systems, communication tools, and e-learning platforms are lacking and have created anxiety due to their complexity.
Virtual learning is effective in and of itself, but it is somewhat difficult for people in developing countries due to a lack of technology and a lack of familiarity with digital software.
Also, Artificial Intelligence is on the rise, and its advancement benefits the educational system in more ways than one. Big data and artificial intelligence can be used to analyze the outcomes of pedagogical activities. This improves teaching quality because students have greater access to materials when learning online, such as electronic resource databases at the school/national/public library and Google Scholar. Improved online education experience as a result of the availability of extensive course materials.
As schools in many parts of the world abruptly close, some people wonder if online learning will continue after a pandemic and how this change will affect the international education market.
Conclusion: 
On the one hand, there are numerous challenges associated with online education, particularly given the abrupt transition. Many teachers and students receive no or little online training. Other common issues include insufficient bandwidth and a lack of hardware and software. On the other hand, with the help of an easy platform like ShareLook, the opportunity for more students to participate in online education is both unexpected and golden. This is likely to alter students' perceptions of online education and lead to greater adoption of online education following the pandemic.